What to expect...
First Appointment...
You will either present with a Registration form filled out, (you can download on the web site), or you will be asked to fill one out here at the office. By downloading the Registration form and filling it out, you will save 15 minutes at least.
You will be placed in an examination room, the Doctor will take a detailed history and perform a physical examination. (In most cases this does not require you to remove clothing)
You will either be asked to allow us to order additional medical tests, or you will be notified what condition/s you have, and will be given a few choices on how to best address your condition. It may need to be co-managed with your family doctor.
If your time permits and you agree to treatment options we will treat the first visit.
Second Appointment
You will be started when you arrive and this will not be as time consuming as the first visit, you will be taken swiftly through your treatment, and if indicated your insurance coverage will be presented to you, this is so you know up front what to expect.
Re-examination Visits
You will be asked to fill out a couple of pain charts, and then put in an examination room where the Doctor will revisit your condition specifically, and perform a brief examination and recommend additional treatment, different treatment, or release you to an as needed patient (which is determined by the patient). These visits are typically every two weeks or six visits.

---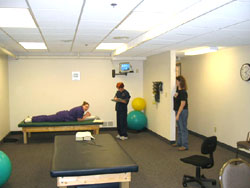 We utilize the following at Yerkey Chiropractic Health Center, Inc.
A free consult with doctor, this is done to help answer any questions regarding your condition or practices of our office before committing to be a patient.
Active Therapy- this is light stabilization exercise to aid in the long term recovery.
Ultrasound, Electrical muscle stimulation, Traction (both Neck and Back), Ice, Hot packs and Deep tissue massage is all tools we can use to help with your condition.
We also have a massage therapist here at Yerkey Chiropractic.